Filtration technology utilizing sintered metal media provides excellent performance for separation of particulate matter from either liquid or gas process streams (i.e., liquid/solids and gas/solid separation) in numerous industrial liquid and gas filtration applications. Sintered metal filter media, fabricated from either metal fibers or metal powders into filtration elements, are widely used the in the chemical process, petrochemical and power generation industries. Applications require particulate removal to protect downstream equipment, for product separation, or to meet environmental regulations.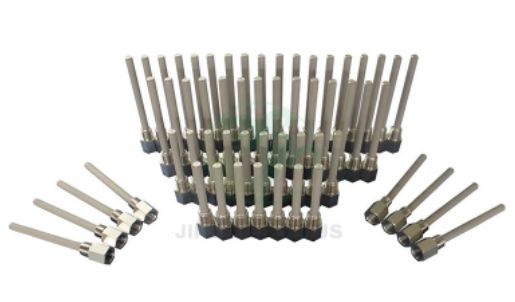 Sintered Porous Metal Filter Element
Sintered metal media provide a positive barrier to downstream processes. Sintered metal media have demonstrated high particle efficiency removal, reliable filtration performance, effective backwash capability, and long on-stream service. These filters can provide particulate capture efficiencies of 99.9% or better using either surface or depth media. Operating temperature can be as high as 1000°C, depending on the selection of metal alloy. Along with the filtration efficiency consideration, equally important criteria include corrosion resistance, mechanical strength at service temperature, cake release (blowback cleanability), and long on-stream service life. These issues are critical to achieving successful, cost effective operations.
The life of such filter media (filter operating life) will depend on its particulate holding capacity and corresponding pressure drop. This accumulating cake can be periodically removed using a blowback cycle. The effectiveness of the blowback cycle and filter pressure drop recovery is a critical function of the properties of the accumulating particles in the cake and the filter media. Depth filtration media configured in a polishing filter may be utilized in those applications with light particle loading.
In addition to providing superior filtration in a single pass, clean-in-place backwashable media reducesoperator exposure to process materials and volatile emissions. While applications include high temperature and corrosive environments, any pressure driven filtration process with high operating costs has the potential for improvement using sintered metal filtration technology.
Sintered Powder Metal Media
Sintered metal media are manufactured by pressing metal powder into porous sheet or tubes, followed by high temperature sintering. A scanning electron photomicrograph of a typical sintered powder metal media is shown in Figure 1. The combination of powder size, pressing and sintering operation defines the pore size and distribution, strength and permeability of the porous element. Pore size of sintered metal media is determined using ASTM E-128. The media grade designation is equivalent to the mean flow pore, or average pore size of the filter. Sintered metal media are offered in grades 0.1, 0.2, 0.5, 1, 2, 5, 10, 20, 40 and 100. The filtration rating in liquid for media grades 0.2 to 20 is between 1.4 and 35 µm absolute. The filtration rating in gas ranges from 0.1 to 100 µm absolute.
Filter cartridges fabricated from sheet or tubes have an all welded construction. The filter media is designed and engineered with a stable porous matrix, precise bubble point specifications, close thickness tolerances, and uniformity of permeability, which assure reliable filtration performance, effective backwash cleaning and long on-stream service life.
We are a Sintered Porous Metal Filter Element supplier. If you are interested in our products, please contact us now!